A PARTIAL LIST: SOME OF WHERE WE'VE PLAYED IN PUBLIC
We have performed all over America and in Israel, including: 12th Annual International Klezmer Festival, Safed, Israel; Winter Garden Theatre, Toronto, ON, Canada: Coconut Grove Playhouse, Miami, Florida; California State University at Northridge in Los Angeles; Dakota Bar & Grill; San Diego Repertory Theater; Annenberg Theater, Palm Springs, California; Minnesota Orchestra Day of Music; Bethlehem Lutheran Church, Minneapolis; New Ulm, MN; York Theatre, New York City; Kansas City Jewish Arts Festival.; Jewish Community Center of Southern Nevada; Cedarfest; Mt. Zion Hebrew Congregation; KTCA-TV Channel 2 (PBS) in Minnesota; Chicago Area Jewish Arts Festival; Como Conservatory; Minnesota Public Radio Morning Show; Park Square Theatre, St. Paul, Minnesota; Cedar Exchange in Central Presbyterian Church; Stillwater Jazz Festival; KARE-TV Channel 1; Minnesota Public Radio Live From Crystal Court; Jewish Community Day School of Minneapolis; Chabad Lubavitch Baal Shem Tov's 300th Birthday Celebration; Jewish Community Center of St. Paul; Adams Museum, Deadwood SD; International Peptide Convention; Camp Osrui; Minnesota Children's Museum; Adath Jeshurun Congregation; University of Wisconsin Stout; Mounds Park Academy; Rimon Jewish Arts Conference; Jewish Community Center of Minneapolis; Temple of Aaron, St. Paul, Minnesota; Hopkins Center For The Arts; Mayim Rabim Congregation; Rapid City, South Dakota; with Chasidic singer Avraham Fried; First Avenue in Minneapolis, Minnesota; Lincoln, Nebraska, Two Harbors Festival, Two Harbors, Minnesota; College of St. Scholastica; Pine City, Minnesota; St. Mark's Church, North St. Paul, MN; Temple Israel, Minneapolis, MN.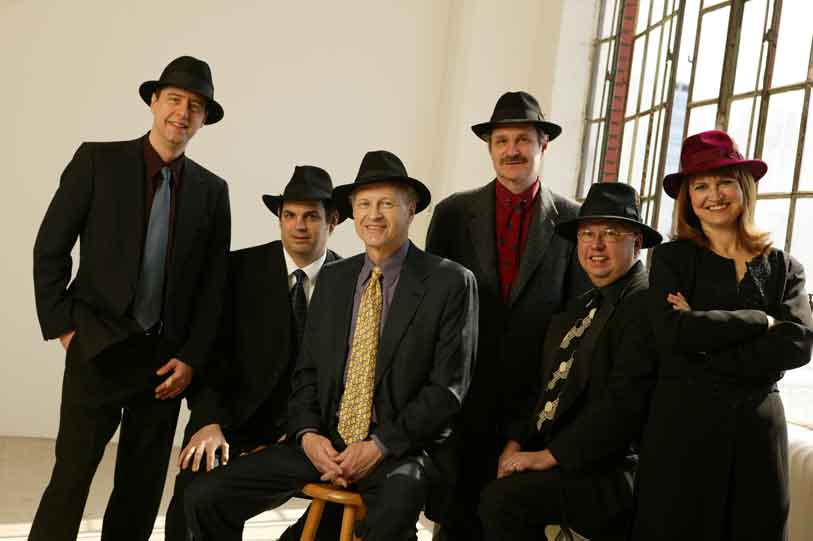 Dave Jensen, Chris Bates, Joe Vass, Jay Epstein, Dale Mendenhall & Carolyn Boulay.
BIOGRAPHICAL SKETCHES
Pianist, Composer and Bandleader Joseph Vass conceived and wrote The Soul of Gershwin: The Musical Journey of An American Klezmer and the book, music, and lyrics for Mishegass!, as well as all Klezmerica's original music and lyrics. He is a member of the Dramatists Guild. Joe started piano lessons at 8, but he's only played well since August, 1997. As a teenager, he did practice a fair amount in the basement of his parents' house in Oak Park, Illinois. His piano teacher's teacher's teacher's teacher's teacher's teacher was Ludwig Van Beethoven. He lives in Maplewood, Minnesota, with his wife comedian Susan Vass.
Drummer Jay Maier Epstein has been a professional drummer for more than twenty-five years. He studied in New York City with Barry Altschul, the drummer in Chick Corea's Circle. A few of the notable artists with whom he has performed are Barney Kessel, Roseanna Vitro, Manfredo Fest, Sheila Jordan, Terry Gibbs, Greg Abate, Claudio Roditi, Kim Richmond, Vinny Golia, Anthony Cox, JoAnne Brackeen, Rebecca Parris, Ernie Watts and Sarah Vaughan. His CD "Long Ago" featuring Anthony Cox on bass & Bill Carrothers on piano, garnered luminous reviews in the national press.
Woodwinds player Dale Mendenhall has over 30 years of professional music experience. As a freelance musician, Dale has performed at Orchestra Hall with the Minnesota Orchestra, The Guthrie, Ordway, Children's Theatre, The State and Orpheum Theatre, backing up such artists as Natalie Cole, Aretha Franklin, Tony Bennett, David Letterman, Jay Leno, and many more. He toured Japan with Ben Sidran and the Paris singer Clementine. His sound was heard on the #1 pop hit "Funkytown."
Violinist Carolyn Boulay was Concertmaster of her University of Minnesota orchestra and went on to play in the 1st violin section of the San Antonio Symphony. Returning to Minnesota to raise her family, she has been a soloist with area orchestras, played at the White House, and freelanced extensively. She has played electric fiddle for country bands at festivals, rodeos, as well as opening for artists such as Tanya Tucker and Vince Gill. She has been featured on several Target Lifescapes CD's. Carolyn has toured and recorded with Lorie Line since 1993.
Trumpeter Dave Jensen is a member of Hornheads, a Billboard Magazine Award-winning jazz group which has recorded hundreds of albums, including nine with Prince and The New Power Generation. He toured for three years with the Artie Shaw Orchestra. His trumpet and flugelhorn can be heard on the recordings of Chaka Khan, Larry Graham, Lenny Kravitz, Babyface, Mandy Moore, Mavis Stables, Ben Sidran, to name a few. He has performed with The Minnesota Orchestra. He graduated Summa Cum Laude from Berklee College of Music.
Bassist Chris Bates has been playing bass for a long time - Ever since elementary school to be precise. Chris is not sure if that counts as professional experience but that doesn't really need to be debated here. Chris studied bass with James Clute and Anthony Cox. Chris has played with many great musicians including – Mose Allison, Eric Alexander, Bill Carrothers, Claudia Schmidt, Osmo Vanska, Charles Lazarus, Ira Sullivan, Greg Skaff, Ernie Watts, Dean Magraw, Joe Lovano, Helene Labarrie, Marcus Wise, Chris Cunningham, Dean Granros, Lucia Newell, Prudence Johnson, and Kelly Rossum. Chris maintains a long-standing relationship with drummer Jay Epstein and performs in the groups Red Planet, Tanner Taylor Trio and Framework with him. Other groups Chris currently leads / follows are - Enormous, Improvised Explosive Device, How Birds Work, Tampered Seals, Volcano Insurance, Western Suburban Strategies, Klezmerica and Low Blows. Chris has recorded albums with Kelly Rossum, Klezmerica, Red Planet, Peg Carrothers, Motion Poets, Low Blows, Willie August Project and Craig Schumacher.
Bassist Gary Raynor traveled for years with Sammy Davis, Jr., performed with the Count Basie Band, and has played with many national jazz artists in concert and at clubs. He has played dozens of Broadway touring shows, as well as the world premiere of "The Lion King." He performs with the Minnesota Sinfonia and has appeared with the Minnesota Orchestra Pops. His arco bass work is featured on Janet Jackson's single "Again," which was nominated both for a Grammy and an Academy Award. Gary teaches at the University of Minnesota, and is also the bassist for "Guy's All-Star Shoe Band", featured weekly on the internationally popular "Prairie Home Companion" radio program.
Bassist Michael O'Brien studied bass under Anthony Cox and West African and Haitian percussion under Marc Anderson. Michael has performed with such notables as Klezmerica, Todd Reynolds, Peter Ostrushko, Debbie Dunkcan, Bruce Henry, Dennis Spears, Connie Evingson, Prudence Johnson, Dan Chouinard, Irv Williams, JazzMN Orchestra, The Wolverines and countless others. His experience includes inter-arts collaborations with The Choreographers Evening in collaboration with the Choreographer April Sellesr; the Miami Production of Gershwin The Klezmer; and the Zorongo Flamenco dance company. He has also performed on MPR's Prairie Home Companion.
In Memory:
Violinist Yuri Merzhevsky was born in St. Petersburg, Russia. In 1984, he won a Prize in the International Johann Sebastian Bach Competition in Leipzig, Germany. In 1986, he received the equivalent to a Ph.D. from the Leningrad Conservatory of Music, where he subsequently served as a Professor of Violin. He has also served as Concertmaster in several orchestras, including the Leningrad Conservatory Orchestra and the Hermitage Orchestra. He has been a frequent soloist with many orchestras, including the Leningrad Philharmonic.
WHAT THEY SAY ABOUT US
"A tight, smokin' five-man ensemble." Miami New Times..
"The sound is wonderful. It could have come from a dozen countries and times. You hear prayers from ancient Hebrew times wrapped in American blues. The Gypsies are here, Hasidic Jews, too, bumping up against cool jazz and a marching tune. It makes your feet pump. If there was room…you'd grab somebody and dance. Or sing every sorrow and joy you ever felt. The music is boisterous, gaudy and brimming with tears." Kay Miller, writing in the Faith And Values Section of the Minneapolis Star-Tribune.
"[Klezmerica] evokes memories of steamy kitchens and home cooking. And the violin mastery of Yuri Merzhevsky hits the spot reserved for joy and sorrow, one that is universally understood. " The Los Angeles Times.
"...how thrilled our community is after hearing Klezmerica on Sunday. All of the musicians were outstanding!" Nancy Weinberger, Jewish Community Center of Southern Nevada.
"On behalf of Bethlehem Lutheran Church, myself and the Music Series Board of Directors, I want to extend our heartiest thanks for an incredible concert a couple weeks ago. Kids were dancing, running in the aisles, people were dancing and swaying in their seats. ( We should try it next time in our gallery and let people move more freely to the music.). Although Bethlehem has a strong history of quality, diverse music, this is a FIRST for us. I don't think we have ever experienced anything quite this unique! The energy in the room was almost overwhelming. Your musical production was as varied as it was masterfully executed. Many people at the concert and in the community were not only surprised, but also gratified that a Christian church would host Klezmerica! Thank you so very much for sharing your enormous talents with us. We look forward with great anticipation to the next time." Maria Bucka, Director of Music, Bethlehem Lutheran Church.
"A wonder!" St. Paul Pioneer Press.
"…great music by wonderful musicians. [Klezmerica] was such a treat to experience…It was wonderful to be able to showcase Klezmerica in Minneapolis. " RuthAnn Weiss, Director, Cultural Arts, Minneapolis Jewish Community Center,
"A great band! Moves seamlessly from klezmer to be-bop and back." Lowell Pickett, Jazz Impresario and Owner/Manager, famed Dakota Bar & Grill, St. Paul, Minnesota.
"Wow! Congratulations on putting together a terrific concert last week. People are still singing its praises...Rarely have I heard such complete audience involvement and enjoyment of an event here." Kevin Olson, Program Director, St. Paul Jewish Community Center.
"Thank you so much for the brilliant concert…Participants were thrilled and commented that the music in your performance made them proud to be Jews…" Danielle Conhaim, Program Director, Sunday Yachad of the Minneapolis Jewish Federation.
"You have a great band!…Entertaining and educational too!!!…Thanks for the terrific storytelling and even more, the fantastic music." Sylvester Vicic, Producer, Minnesota Public Radio's Morning Show.
"The students, their teachers and the parents were mesmerized. I watched as they bounced, swayed, and clapped as you played. Not only did they experience a wonderful concert. Our kids were exposed to Jewish music of the highest quality—both from Eastern European tradition and from America." Cindy Reich, Talmud Torah Day School, St. Paul, Minnesota.
'Your performance was awesome. Everyone was overwhelmed at the talent and beauty of the music. We all fell in love with the entire band." Mary Kopco, Curator, Adams Memorial Museum, Deadwood, South Dakota.
"The packed house responded with a standing ovation." American Jewish World.