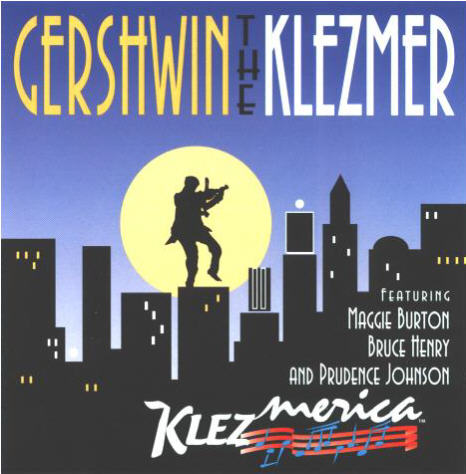 WHAT IS

Music and Lyrics by George Gershwin and Ira Gershwin
Additional Lyrics from Porgy and Bess by DuBose Heyward
Created and Written by Joseph Vass

The Soul of Gershwin: The Musical Journey Of An American Klezmer celebrates the Jewish connection in the music of George Gershwin. We started with a sold-out concert at the St. Paul Jewish Community Center. In October, 1999, along with vocalists Maggie Burton, Bruce Henry and Prudence Johnson, and featuring Michael Paul Levin as George Gershwin, we premiered`the theatrical version with a 5-week run at the Park Square Theatre in St. Paul, Minnesota. The response exceeded our hopes. We have performed in San Diego and Palm Springs, California, on two trips to Los Angeles, in Miami and Fort Lauderdale, Florida, and Toronto, Canada at the historic Winter Garden Theatre.

The Soul Of Gershwin is back! By popular demand, we are booked for a return engagement at the Park Square Theatre in St. Paul, Minnesota for four weeks from December 8, 2011 through January 1, 2012.

WHAT THEY SAY ABOUT THE SOUL OF GERSHWIN: The Musical Journey of an American Klezmer

"A wholly original, wholly delightful revue...wall-to-wall with drop-dead gorgeous tunes...Klezmerica is a wonder, whether the players are tearing through a rip-snorting klezmer number, a Gershwin torch song, or one of Vass' spunky, informed original melodies...Gershwin The Klezmer could run as long as there are people hungry for fascinating rhythm." Dominic Papatola, Theater Critic for the St. Paul Pioneer Press.

Later, in his annual roundup of the Twin Cities 1999 theater season, rating Gershwin The Klezmer one of the year's Top Ten performances (the only original and the only Minnesota-created piece so designated): "Klezmerica, one actor and three singers created pure stage magic...a genuinely thrilling evening of music." Dominic Papatola.

"...the perfect show for baby boomers and their parents...the Klezmerica evokes memories of steamy kitchens and home cooking. And the violin mastery of Yuri Merzhevsky hits the spot reserved for joy and sorrow, one that is universally understood." Los Angeles Times.

"Gershwin Klezmer is a treat...an electrifying performance!" Minneapolis Star Tribune.

"an imaginatively conceived and finely executed musical creation." American Jewish World.

"Works on so many levels one might have to see it twice...instructive, fascinating, and entertaining." Miami Herald.

"Gershwin The Klezmer features eight supremely gifted artists [giving] virtuoso performances. Twin Citians' enthusiastic response to this production indicates the show should travel successfully My wish for audiences everywhere is that the present company can travel along with the revue to which they contribute so much." Back Stage.

"...Then I understood that the intersecting rhythms of George Gershwin were Bluish and Jewish. Whether it was Anatevka or Catfish Row, the depressed feelings of blacks or oppressed feelings of Jews, these were intersecting rhythms, brilliantly expressed in this unique show. Rarely have I attended a performance that evoked such an empathetic response; people smiled, swayed to the rhythms, wept--all in visible, emotional response to the music...an extraordinary musical revue...It is not to be missed. 'S'Wonderful, 'S'marvelous!" Rabbi Bernard S. Raskas, in a commentary written for the American Jewish World.

"Gershwin and Klezmer. Together they produce sheer heaven. A cornucopia of musical delights." The Reverend Christopher Russell, Theater Critic for the St. Cloud Times.

"While bringing the show back well within a year was a bit risky on our part, it proved totally justified by the overwhelming response of our audiences and the well-deserved standing ovations at every performance. Matter of fact, we clocked the Sunday afternoon show's curtain call at 6½ minutes! A record by anyone's standards. And a testament to the gorgeous performance." Keith Evans, producer Show Of The Month, Los Angeles, California.

"What a fantastic show "Gershwin The Klezmer" was. It far exceeded my wildest expectations in scope and entertainment." Seville Pourush, Program Director, Jewish Community Center of Greater Los Angeles.

"jazzy, rousing, soulful..." Christine Dolen, Miami Herald.

"the best theatrical revue to play South Florida in years..." Bill Hirschman, Broward Sun-Sentinel

"all about the music… yes, 's wonderful…"

Robert Crew, Toronto Star.

"works on so many levels one might have to see it twice..." Howard Cohen, Miami Herald.

____________________________________________________________________________________

The of Gershwin The Klezmer CD features 17 complete tracks, including not only extraordinary performances of Gershwin favorites like Someone To Watch Over Me, Embraceable You, I Got Rhythm, and Summertime, but also two never-before-recorded Gershwin treasures, Vodka and Life Of A Rose!

TO ORDER The CD GERSHWIN THE KLEZMER:

TO ORDER ONLINE, VISIT OUR SECURE WEBSTORE NOW!

OR, to order by Mail:

US: Send check or money order for $17.95 per CD to:
Attention: GK CD

Klezmerica.

2018 Kenwood Drive West

Maplewood, MN 55117-2226
FOREIGN: Send check or money order for $23.95 (U.S.) per CD.

Please:

Do not send cash.

Provide return address, or we cannot send the CD!

Price includes shipping and handling.

Allow two (2) weeks for U.S. and five (5) weeks for foreign delivery.